Breeding quality bullmastiff's for loving families 
---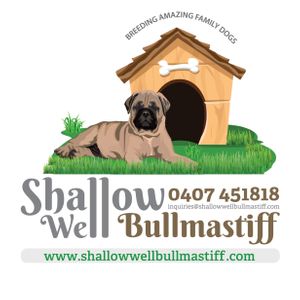 Here at Shallow Well Bullmastiff we always do our breeding program around our needs first and for most and then the needs of the potential families that are happy to go on our waiting list.
---
So what this means is, we only plan mating around our needs or if we have enough suitable families looking to add a Shallow Well Bullmastiff to their family we would do a mating.
---
So if you are happy to wait for one of our puppies and not want a puppy yesterday.  Then we welcome you to fill out our application form and once your application is accepted and we have at least 4 approved families. Then and only then will we plan a mating.
 
---
 At time to time we will be lucky enough to have more babies born then families on our waiting list , when this happens we will advertise these babies both here on our site and Dogs Online .
Although there will not be a wait for these puppies, you will still need to go though the application process
 
We are looking for very special homes
for  our babies
All the puppies we breed are bought up in a farm environment with chooks , cows , horses and of course wildlife and my beautiful grandchildren. All pups will be vet checked , micro-chipped , Parentage DNA testing as required from Dog's QLD and registered with dogs QLD.
Pedigree papers will be forwarded once processed by Dogs Queensland.
All puppies are normally sold on limited registration. I am looking for owners who can give our puppies a loving and safe home .
---
We are happy to discuss the prospect of main registration with the right families. 
---
If you think you have the right home then please fill out our Puppy Application 
after your Application has been processed we will make contact with a follow up phone call that will help us make the decision if your family is suitable as a potential homes for one of our puppies
Please download our puppy application and email it to us for consideration for one of our puppies
---
If you have any questions, please call on
0407451818 
inquiries@shallowwellbullmastiff.com.au